Last Friday, my mom told me that ate Hannah, my schoolmate(also my sister's mate in high school) was found dead in her room some time in her sleep in the wee hours of the night (suspected aneurysm). She was but 21 years old. I don't remember much about her except that I really liked and admired her back in high school. She looked like barbie with her plump cheeks and slim figure. I remember that I liked her smile; thought that her braces made her look more charming.. There's just so much life she left ahead for the future. She and her fiance were all ready engaged and supposed to get married as soon as all the arrangements were settled. She were also supposed to attend her graduation the next day for goodness' sake!
You just have to ask the question, you have to ask
why.
I know it may seem unfair to ask God why things like these happen to good people.. Oh why couldn't the criminal die instead? She had so much to offer, the future is right in front of her all ready prepared to live. Graduation, Wedding.. Senseless.. Just plain senseless..
To add to my lament is ate Hannah's fiance with his note posted in fb yesterday:
Remember this hon? I put this letter in your scrap book i made for our 4th anniversary. Please come back.
Dear Hanana-Mahal, I hope that you like this little scrap book. It's not amazing, but I put love into it! I'm not really that creative with stuff like this...
21 Reasons to be Happy(In no particular order):
1. When you look at me, I can feel the affection. I can see in your eyes that they enjoy looking at me and that they are only for me.
2. When you hold my hand, I can feel the warmth of your love. Your hand fits perfectly into mine and feels simply; Perfect.
3. I love your "man hugs". From someone so much smaller than me, the feeling of knowing that I am truly loved provides my heart with the safety it needs.
4. When you grieve on me, I feel honored that you seek me out to help you to feel better. Even if i don't have to say anything, just knowing that you feel better by holding onto me means so much!
5. I am always glad that you call or text me at work. It's kind of lonely even though I am around so many friends. Just hearing from you in any way brightens my day immensely!
6. I love the way we have similar senses of humor. It makes me so happy to know that you can appreciate my wacky goofiness. Hearing your laugh and knowing I caused it warms my heart!
7. The way you like color coordinating with me shows how much you want people to know we are together. I can think of no greater compliment.
8. Those special moments when we are on the phone together. You know the ones :P Who else but you would be happy to hear that I'm calling because I'm performing a bodily function.
9. I am so glad that I can cry on your shoulder when i need to. You know that I have a lot of crying to do and you love me just the same. Thank you.
10. The special bond that you have with Mr. Bigglesworth makes me very happy. Knowing that you two love each other so much makes the family atmosphere all that more loving.
11. I am happy that you get along well with my friends and that I sorta with yours :D Knowing that we won't have any issues like that when we are married is a relief.
12. Knowing that I can play games while you try on dresses makes me happy. I'm so glad that you aren't a dictator when it comes to our relationship. I feel respected.
13. We are getting married on the 13th!!! And it's a Friday to boot!
14. Knowing that by the end of this year we will be living together and saving up for our dream house makes me very very happy.
15. That you love God and are an active servant makes me very happy. I am so blessed to be marrying someone who will help create a strong Christian household.
16. Knowing that you get along well with my family and I with yours is another source of happiness and relief. Too many people out there are always complaining about the in-laws!
17. That you go bowling with me means something special. Even though you don't think you are physically skilled, you will still humor me and throw a ball at some pins once in a while. We'll get you better so that you can do it when other people are around!
18. I am glad that you actually want my honest opinion when you ask for it. Knowing that you trust my judgement and value it is a major pillar of strength in our relationship. I am also glad that I can ask yours and get an honest answer.
19. I'm so happy that even after 4 years you aren't tired of me yet. I hope that the same is true for the rest of our married lives!
20. I am happy that you aren't the type to demand things. That you are thankful for the gifts I give you, and that you don't want to trade them up for something else.
21. I am happy that God is making our wedding preperations so easy. Finding Villa Bianca is just the first step. We will breeze right through the planning. Before you know it, we will be before the minister and announced as husband and wife. I love you.
I wanted number 21 the most.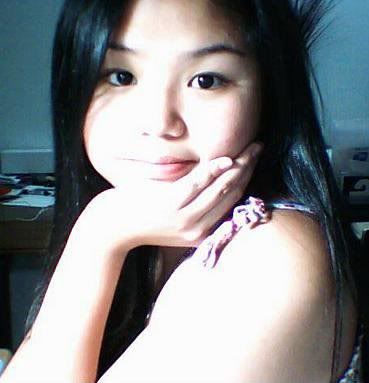 She is so beautiful.
It made me want to cry and run immediately to Ochie, tell him I love him everyday.. Cliche but true, never miss an opportunity to tell your loved ones that you love and care for them; show how much you appreciate having them in your life. Tell them before it's too late.